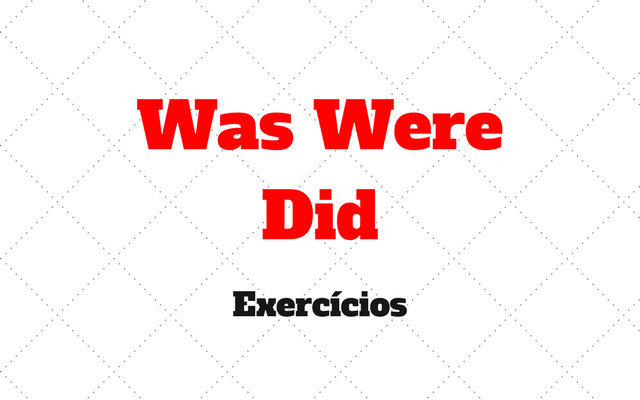 Atividades sobre o simple past
Olá, como vai? Este post contêm somente questoes com respostas, entao aproveite para treinar seu conhecimento sobre a matéria. Se preferir estudar sobre o assunto antes, clique no link abaixo para abrir um artigo com explicaçoes sobre was, were e did. Vamos aos exercícios sobre simple past.
1) Complete the sentences below using WAS or WERE
a) Shirley CLIQUE RESPOSTA waiting for you at the mall.
b) Helena and George ????? friends in 2008. They don't talk anymore nowadays.
c) I ????? sad because he didn't come to the party.
d) My children ????? at the garden this morning.
e) ????? you at Patricia's party yesterday?
f) I ????? hungry! I couldn't even think clearly!
g) It ????? a lovely, sunny day.
2) Change the sentences from affirmative to negative and interrogative:
Exemplo:
She was rich.
She was not rich / Was she rich?
3) Pass the sentences to English.
Exemplo:
Meus amigos estavam errados.


My friends were wrong.
4) Put the sentence in the right order.
Exemplo:
mather/ did/ call/ your/ ?


Did your mather call?
5) Put the sentences in the past.
6) Complete the story:
7) Complete the sentences below using the best option for each situation:
a. They ????? really great students! They always got good grades 
► were           ► weren't
b. I ????? lost at all! I knew this city very well. 
► was              ► wasn't
c. Frank and Christine ????? a nice couple. Everybody in that neighborhood loved them! 
► were           ► weren't
d. She ????? at school in the mornig but now she is here at home. 
► was             ► weren't
e. Jess and Blake ????? late for school. They arrived on time. 
► were           ► weren't
f. I ????? sad at that time. I ????? just thinking about life. 
► wasn't / was         ► was / wasn't
8) Complete the questions with DID, WAS or WERE:
Estude e tenha contato constante com o idioma, que voce vai adquirir sua tao desejada fluencia. Temos muitos outros materiais aqui no blog, além destes exercícios com was were e did, e voce está convidado a navegar mais por aqui.
Aprender com um sistema que funciona
Podemos dizer que para aprender rápido é preciso conhecer os caminhos certos, e eles sao revelados por quem tem grande experiencia no estudo do ingles. Clique aqui e conheça alguém que pode lhe ensinar de forma eficiente.